7 February 2009 | Posted inBiomimicry, Blog News & Updates, Video
Posted by John
In 2003 I traveled to Aspen on an adventure to attend the International Design Conference in Aspen to listen to some of the most intelligent individuals I've ever had the privilege of hearing. Some of the names there were Gregg Lynn, Natalie Jeremijenko, John Maeda, GRAFT, UN Studio's Ben Van Berkel, and Imaginary Forces. There was a lot that went on that weekend, but I wanted to focus on two of those names for this post; Gregg Lynn and Imaginary Forces.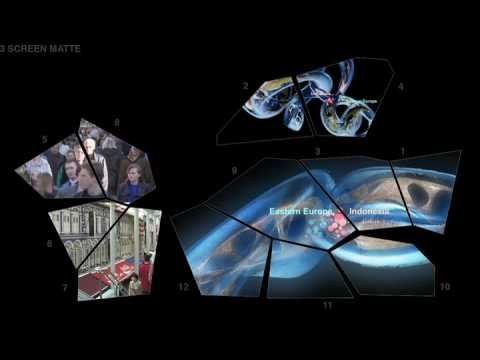 I've talked some about SEED magazine in my posts and especially their collaboration with MoMA for the 'Design and the Elastic Mind' exhibit. I think has been one the most successful exhibits of all time and will carry buzz for a long time.
One of the exhibits, Lynn and Imaginary Forces, had the challenge to rethink the way we interface with the internet and perceive its existence. The project was called 'New City' (watch this video on the making) and is a brillant and relevant piece for several reasons. First of which is the recognizing of the system in the first place. Now that statistics and data visualizations of the interconnectedness of everything have really sprung to life, they are mere 'snapshots' into the experience of real-time online data streams. We currently view the internet as pages on a 2D screen, page-by-page, bit-by-bit (literally) and all the while not understanding the page's context, place, origin, etc. Maybe the beauty of our acceptance of the web is that it transcends destinations to form its success as a tool for daily life.
Second, is the math of the idea. 7 tori, linked together by information.(each torus represents a continent) The idea that the torus has continuous faces inside and out that share information alongs its surfaces and internal data points. This is very much in-line with the scientific nature of ideas like string theory which utilize more than one surface simultaneously. It's an added bit of complexity that becomes very necessary when dealing with visualizing very large quantities of information.
Also, the very visual co-existance of nature, natural systems, and mathematics is something we've not really seen, but will be seeing much more of. Especially with the overflow of data from virtual social behaviors as compared to tactile (actual) social behaviors to counter balance.
This post could become quite long to try and verbalize the beauty of this exhibit, and I recommend watching the videos to understand what 'New City' was all about (there's even some great fabrication info in there for the engineer at heart).
Just in case you're interested in more of Gregg Lynn, check out this TED lecture on calculus in architecture in defining synthesis of form (which ironically is Lynn's studio name) from a fractional understanding to a much more, dare I say it, organic nature of all things. (which in this video, Lynn is wearing a shirt and tie that looks like a book cover from Manuel Delanda, a philosopher, and professor at Columbia's school of architecture.)
Also, just to circumvent any negative commenting about the content, first try to realize our relationship to nature in design 100 years ago, and the difference in today's outlook. Biomimetic design is in its earliest form possible right now and the interconnection of mathematics to nature, and natural systems should be one you shouldn't even try to knock.