20 August 2009 | Posted inBlog News & Updates
Posted by Justin
One of my favorite things as a kid was sitting on the porch watching the thunderstorms come rolling through over the cornfields. Where my grandmother would get out the holy water and start telling everyone to get into the basement. I use to love watching things blow up.

Now I'm not sure what the weather is wherever you are located. But here in Toronto we have had quite the strange year (or two). First we had a bitterly cold winter, followed by a very wet spring. Which made way the coldest June/July in 15 years. But lately what has been happening are these very large thunderstorms that keep rolling through, like a hungry man going to an all you can eat buffet.
I guess the thing I really don't get, is when we have a bitter cold winter, or a normal summer. The comments about global warming start coming out. Which the naysayers start saying if there was global warming, why isn't warmer.
Well I normally bite my tongue, and keep my mouth shut. But I have to think that global warming just isn't about a warmer environment, but also more dangerous extremes of conditions. Stronger thunderstorms/hurricanes, colder winters, dryer summers, well maybe not where I live. But I find it strange to hear my parents, located in San Antonio, Texas, talk about being in a drought for almost 2 years, while the streets I walk on everyday, are flooded almost every rainfall. What's even worse is trying to explain to people why in Toronto during the winters during a heavy snowstorm we also get lightning to light up the sky.
But one thing that I am thankful for is my next-door neighbour, two extremely large phallic objects: the Skydome (err, Rogers Centre) and the CN Tower, the largest lightning rod on the planet.  (Except as shown in Brey's earlier post.) Falling asleep to the sounds of loud bangs and pops, as it gets hit by lightning after lightning is extremely relaxing.
I think my goal for the remaining part of the summer is to go to the top of the CN Tower during a severe lightning storm.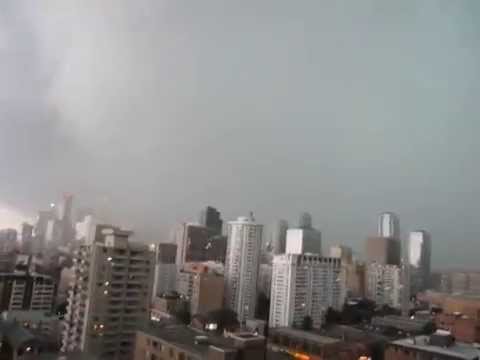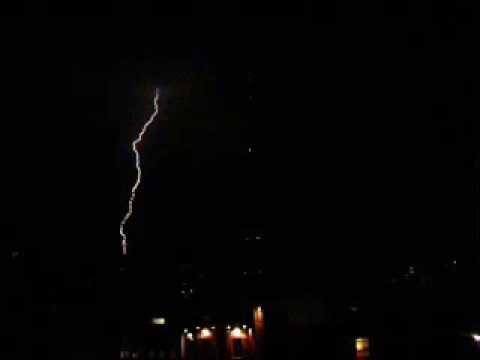 .
.
I got these next photos from boston.com
.
.
.
Justin Zawyrucha's other blog posts:
Page 1      -     Blogs 111-81
Page 2     -      Blogs 80-50
Page 3     -      Blogs 49-19
Page 4     -      Blogs 18-1