9 October 2009 | Posted inBlog News & Updates, Video
Posted by Mike
[Click image to view 1960s TV commercial]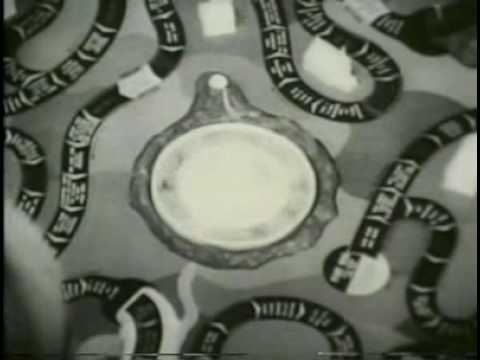 A favorite from my 1970s childhood, the Game of Life contained all the board-game adventure this little boy could want. A hyperactive spinner wheel. A twisting, terrained board. The opportunity to nab a wife, kids and (if all went well) a lucrative doctor's salary.
The ultimate goal, of course, was to secure a wealthy retirement in "Millionaire Acres." But potential pitfalls could send you to a humiliating destiny known simply as the "Poor Farm."
It was exhilarating.
Originally introduced as The Checkered Game of Life by Milton Bradley himself in 1860, the game has gone through quite a few refinements in the past 150 years. Dollar values have skyrocketed to reflect inflation. The Poor Farm has been replaced by the much more palatable "Countryside Acres." And Life Tiles now reward players for recycling their trash, learning CPR and saying no to drugs.
I support these updates. What's troubling to me is what hasn't changed. Education is still of questionable value. Landing on the REVENGE space is a real coup. And Millionaire Acres is considered the ultimate victory.
It makes me wonder what the Game of Life is really teaching us about success, values and leaving a legacy.
Instead of crossing my fingers for Millionaire Acres, I think I'll go off-the-board and drive my kid-filled convertible into the sunset. Maybe we'll head over to Candyland.