15 May 2010 | Posted inBlog News & Updates
Posted by John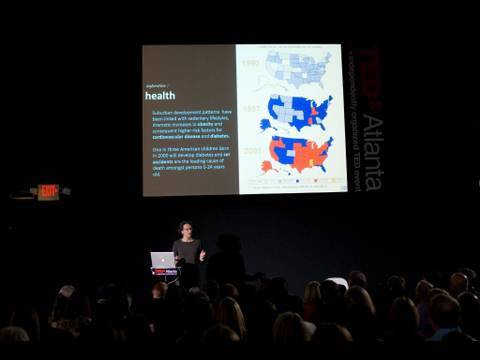 I just finished writing about one City of the Future: Atlanta competitor, HollwichKushner , and now I'm about to write about another at TEDx Atlanta! Ellen Dunham-Jones led the team from Georgia Institute of Technology (Georgia Tech) and talks in the above video about the ideas behind her brilliant book 'Retrofitting Suburbia'.
I've had the wonderful privilege of watching Ellen give this talk before about the concept, but in a bit more detail than 20 minutes will provide. Although, considering the time allotted, I thought she got out a lot of great data outlining the reasons why as well as a few examples of other places where this has been a successful endeavor making the case that we just can't ignore the suburban development, whether we like it or not.
Rather than reiterate what Ellen talks about in her video (I wouldn't do the complexity justice), instead I just wanted to detail how important this movement could, and should be, to cities of America today. I loved the bit toward the end about 'astro-turf democracy' and how powerful the notion of engaging citizens in communities really is. Not to be 'knocking' architecture, but the planning and public engagement of our cities is really THE most important thing we can ever aspire to. This concept of developing neighborhoods, communities, and better public policy reminded me of a post I did not to long ago about the IBM 'Smarter Planet' commercial and the importance that policy and democracy can play to work FOR US, if we align our intentions with our actions.
I think also another post on Gregory Todd Jones' also puts into light how getting these decisions through policy really evokes sustainability at the highest level, through communication and networks of individuals that can start movements with their minds and their words for collective benefit.
I'm reminded of so much of just how elitist our profession of architecture can be at times and find it extremely more important every day for the prioritization of needs in order to mean our REAL intentions for a better future.
Also, enjoy the video below on James Howard Kunstler at TED on Suburbia. Leave it to Kunstler to tell it like it really is.