20 July 2012 | Posted inBlog News & Updates
Posted by David
Lightwork.  I can't think of a better single word to describe what we do every day at HOK Lighting Group, the five-person lighting design team based in St. Louis.  2012 has been a very busy year for us.  It is more than half over, so I wanted to share some of the highlights (pun is unavoidable in our profession).  I also welcome you to follow me on Twitter (@LightworkPDZ) for continual lighting related announcements, observations and chatter.
The St. Louis Interiors and Lighting Groups have expanded and revitalized our workshop to include multiple lighting mock-ups including the HOK Product Design/Neoray recessed indirect "Luminous HE" product (the 2'x2' with optional blue center band).  From backlit onyx to decorative vanity sconces to linear LED grazers, the workshop is getting plenty of use, hence its current messy state (we're working on that).
Early in the year, the Lighting Group hoarded a couple dozen LED samples and presented a lunch & learn to the Interiors team.  The purpose was to dispel rumors about LED lighting (yes, they will fail someday) as well as bring everyone up to speed on the state of the technology, which is still clipping along at a brisk pace.  Efficiencies continue to improve, as does the quality & color of the light.  The cost is certainly falling for certain products, though perhaps not as fast as we'd like it to.
Our vendors have been showing us some impressive products.  The "Holy Grail" LED ellipsoidal theatrical fixture is impressive, but it becomes even more impressive when one removes the front lens.  You can see all the individual seven-color LEDs projected into our workshop.  When the lens is reinstalled, it re-focuses all the light into a manageable beam.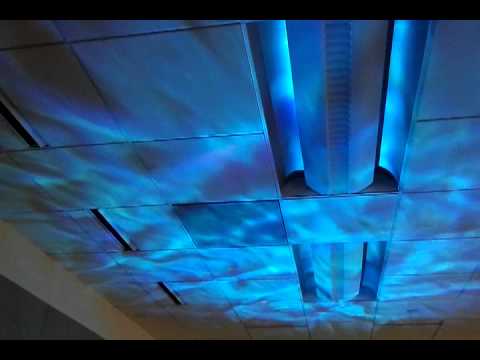 Did you ever wonder how to make a water wall without water?  It takes a dual rotating lens pattern projector, blue filter and a ceramic metal lamp.  Simple as that.  I think you'll agree, the effect is mesmerizing.  Right, Michelle?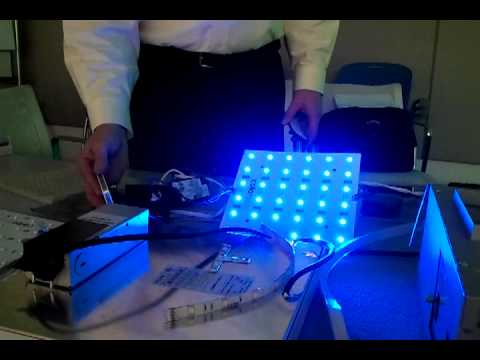 Another manufacturer showed us a sound activated LED panel.  With help from an iPhone, the light dances along with the music.
And there were mock-ups upon mock-ups.  The Council House Tower at Grand Center in St. Louis will soon be bathed in light on both sides.  The east side's historic Saunders Schultz façade sculpture will receive a soft blanket of illumination, and the blank west side will receive projected rectangular light beams that emulate the tower's verticality.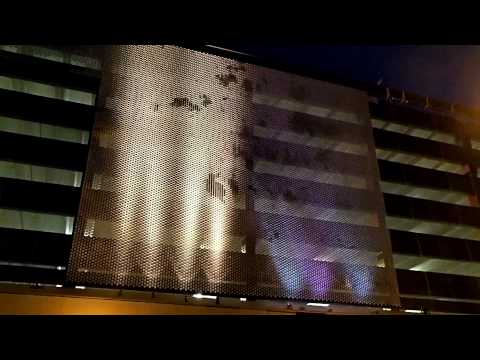 A few miles west in Clayton, a Ned Kahn "wind wall" is being erected to screen the parking garage of an HOK designed office tower.  Various lighting systems are under study from white ceramic metal halide, white LED and red-green-blue color changing LED.
A few hundred miles east, a prestigious college's East Hall tests the impact of such dramatic nighttime illumination.
Finally, HOK Lighting Group was proud to once again assist Autism Speaks' Light-It-Up-Blue autism awareness campaign.  World Autism Awareness Day was on Saturday, April 2.  We collaborated with a number of local buildings and clients in St. Louis to help them turn blue, whether through LED programming or filtering existing white lighting systems.  The new "blue" addition this year was the St. Francis Xavier College Church at St. Louis University.  It shined brilliantly in blue!
This entry was posted on Friday, July 20th, 2012 at 1:29 pm and is filed under
Blog News & Updates
. You can follow any responses to this entry through the
RSS 2.0
feed. You can skip to the end and leave a response. Pinging is currently not allowed.